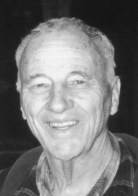 Joseph Charles Palmisano
Ventura County Star:
Joseph Charles Palmisano, Jr., 77, went to his heavenly home on December 8, 2005, the Feast of the Immaculate Conception.
He was born August 9, 1928 in Montgomery, Alabama to Joseph and Margaret Palmisano. His father, Joseph, played in the 1931 Baseball World Series. His grandparents, Anthony and Agatha Palmisano immigrated from Sicily. His maternal grandparents Sydney Melbourne immigrated from England and Marguerite Lugen from Luxemburg.
In 1946, after graduating from Belmont Abby in North Carolina, he was drafted by the Chicago Cubs and played professional baseball until he enlisted in the Army. He served in the U.S. Army as a Staff Sergeant during the Korean War where he injured his back, which hampered his professional baseball career. However, he played baseball again earning All-American Honors in 1955.
After baseball, he became involved in teaching and coaching. He graduated from St. Joseph College in Albuquerque and earned a masters degree in education from the University of New Mexico.
Joseph met the love of his life, Mary Jean Utz, and they married August 9, 1958. Joseph taught school for 32 years; first in New Mexico, then Upland and Ventura. He loved teaching children and motivated them to develop expansive vocabularies. He also stressed the importance of physical activity and developed sports programs for his students.
His love of children was especially demonstrated in his dedicated devotion to his eight children; Joseph III (wife Glenda), Dina (husband James), Marguerite (husband Gilbert), John (wife Therese), Gerard (wife Tina), Teresa, Leon (wife Monica) and Michelle (husband Dirk); and his 12 grandchildren; Brieanna, Lukas, Joseph, Cecilia, Estelle, Christopher, Helen, Evan, Aaron, Ryan, Jessica and Seth; and his 7 step grandchildren; Josh, Diana, Joseph, Gabriel, Tiffany, Devon and Lexi. Joseph is survived by his wife of 47 years, Mary, and his children and grandchildren.
He was preceded in death by his grandparents, parents and brother, Leon.
Joseph was a member of Sacred Heart and Our Lady of the Assumption parishes. He was a member of the Knights of Columbus. He donated generously to many religious and social welfare organizations. Joseph dedicated his life to caring for and coaching his children and grandchildren in a wide variety of sports. He was never too busy to teach techniques of shooting the basketball or hitting baseballs and tennis balls.
A Ventura resident for 37 years, Joseph loved the beach and spent many hours enjoying nature's beauty taking long walks on the shore. Joseph and Mary Jean traveled in many countries in Europe and in Australia following the professional basketball careers of daughters, Teresa and Michelle. He fought to overcome cancer and made remarkable progress. Before he died Joseph expressed his love for all of his family and friends. Like Saint Paul, Joseph has run the good race and has won the prize.
Both the rosary on Monday, Dec. 12 at 7pm and funeral mass on Tuesday, Dec. 13 at 11am will be at Sacred Heart Church. In lieu of flowers, please make a donation to the Joseph Palmisano Scholarship Fund at Sacred Heart School, 10800 Henderson Rd. Ventura, CA 93004.