Palmisano's Family Web Page


Michelle

Michelle is the youngest of eight in the Palmisano Family. Michelle earned straight A's in high school and in college. Michelle received two college degrees. One in Electrical Engineering and the other in Bio Medical Engineering at Vanderbilt. Michelle received her Masters Degree in Bio Medical Engineering at University of California San Diego. She plans to continue her education at UCSD and earn her doctorate degree. Michelle is a recipient of numerous national awards in education and sports. Michelle is an All-American high school and college basketball player. She earned scholarships at UCLA and Vanderbilt. She went to UCLA one year earning all conference awards her freshman year. She set two team records her freshman year. She then transferred to Vanderbilt and finished up her career as the teams CO MVP. She set three point records at Vanderbilt as well. She received a scholarship from the NCAA to continue her education. After competing in the WNBA draft camp, Michelle decided to pursue her education. Michelle developed an interest in Triathlons while in San Diego. She competed in a some professional Triathlons. Check out her photos here.

June 2000 Michelle is now a Professional Triathlete. She just competed in her first professional event in Oceanside, CA. She will need some sponsors to help her pay for some events. She will need to compete in many events to accumulate points for US next Olympic Trials. Her goal is Olympics 2004.




April 30, 2000 World Amateur Championship in Perth, Australia.

Michelle came in fourth place in her age group. She was the 2nd for the

Americans. She was only 4 minutes behind first place and 7 seconds behind

third.




October-1999 Michelle is the 1999 National Amateur Triathlon Champion. She won the USTA

event in Oceanside late October. However, this year, 1999, she has had a set back.

She crashed in a bike race in San Diego and broke her collar bone. She should

be back this summer to regain her triathlon status.







Michelle's number was retired at Thousand Oaks High School. Here is a picture after the awards banquet from Left to right; Teresa, Mary, Michelle, and Joe

High School 1988-1992

Starting point guard all four years

Finished career at Thousand Oaks as the No. 4 scorer in California history

The No. 1 scorer among guards--totaling 2,798 points

Averaged 26.2 points and 8.4 rebounds and 6.2 assists as a senior

Street and Smith's honorable mention all-American twice

USA Today All-American twice

Three-time All-State Selection

CAL-Hi Magazine rated top guard in California

CIF Southern Section Player of the Year

CIF Southern Section First Team three years

Three-time Los Angeles Times- Player of the Year

Holds numerous school records in scoring, rebounding, steals, assists, field goal percentages, free throw percentages for game for single season and career categories

Holds the county records in scoring and rebounding

First athlete, male or female, to have jersey (#24) retired in Thousand Oaks history

First athlete to earn maximum 12 Varsity letters in four sports; tennis, basketball, swimming and track in Thousand Oaks history




1992-1993

Started 26 games for UCLA, averaging 11.6 ppg and 3.6 rpg

Selected to the PAC-10 All Freshman Team

Scored 20 points against USC

Broke UCLA record: Most three point field goals made in one game. Made 6 three point field goals against Ohio State

Broke UCLA record: Most three point field goals made in one season. Made 48 three point field goals in 26 games.

Led the team in 3 point field goals made, attempted, and 3 point field goal percentage

Ranked second in scoring, steals, and minutes played




1996-1997

Senior Starter Vanderbilt University

Team MVP

Vanderbilt Student athlete of the Year

SEC ALL Conference Team

GTE Academic All-American Team (first team)

SEC All Academic Team

NCAA Round of 16

Participant in Inter sport 3-point shoot out (top 8 shooters in country)

Leading scorer averaging 12 ppg,

Averaged 4 rebounds per game, 2.5 assists per game

led SEC in 3-point percentage(42%) and 3-point field goals made per game (2.8)

Ranks nationally for 3-point field goal percentage and field goals made

Vanderbilt records: Career 3-point field goals (244) ranks first

Season 3-point field goals (83) ranks first

Game 3-point field goals (6) ranks second

Member of 1000 point club, career points (1214)




Michelle (5'9") jumping over everyone for the rebound.

John Stockton from Utah Jazz and Michelle.

Michelle, #12, fighting over a loose ball against UCONN.

Michelle with Chris Mullin at the National Elk Hoop Shoot Contest.

Michelle in front of the White House.

Michelle, GTE All-American, lead her team to the sweet sixteen in '98 averaging 17 points a game.

left to right;

Mary (Michelle's mother), Tom Lasorda, Michelle, and Joe (Michelle's father) at the Son's of Italy Awards Banquet.

Michelle winning the Wildflower Triathlon for UCSD

More Stuff on the WEB about Michelle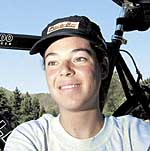 Michelle's Sports Page